Do Your Own Self-Evaluation
Once a year most employees are asked to update their resumes and do self-evaluations in preparation for the annual ritual that is called the performance appraisal. Their reward? Hopefully a raise in pay and a chance to review their major accomplishments for the last year, celebrate their successes and to plan for their future.
As a CTMH business owner, you can perform your own self-evaluation by listing your major accomplishments for last year, your plans for the coming year, what new skills and training you'd like to pursue in 2011 and what you see yourself doing in the next 3 or 5 years. You should also gather all the thank you notes, awards, pictures, letters, emailed compliments, etc. you received last year and compile them into a brag book to use when you need a reminder of just how wonderful you really are.
This little exercise takes just a short time to complete, but can help you in immeasurable ways. It lets you pinpoint the things you are already doing well and the areas where you need some improvement. It's also a good time to give yourself a well-deserved pat on the back for a job well-done. One of the challenges of being self-employed is that you need to be a good boss to yourself and give yourself the same kudos you would give any employee who works for you.
A side benefit of this self evaluation is the reminder of all the great stuff you achieved last year. Sometimes in all the rush of day to day life we forget just how wonderful and special we are. Taking a quick look through your brag book and accomplishments on a regular basis will help you remember who you are and what you have to offer your customers and downline team that makes you so uniquely you.
Top 10 Personal Sales for March:
| | | |
| --- | --- | --- |
| Consultant Name | Current Title | Sales Total |
| Lynn Como | Director | $10,142.83 |
| Ginni Candelaria * | Director | $6,004.73 |
| Laurie Newton | Supervisor | $3,064.75 |
| Helen Onulak | Executive Manager | $3,032.29 |
| Krista Hershberger | Senior Executive Manager | $2,585.75 |
| Kathleen Tini | Consultant | $2,573.40 |
| Judy Larsen | Supervisor | $2,318.55 |
| Susan Tomaino | Director | $2,300.90 |
1ST QUARTER OREGON TEAM MEETING:
Date: Saturday, April 16th
Time: 10:30 - 3:30 or whenever we get done! - Bring a lunch or snack
Place: Call the hotel if you need directions.
Phoenix Inn Salem North location
The address is off I-5 at Market St NE
ALL 1ST-5TH

DOWNLINE ARE INVITED First come first served so RSVP to reserve your place today!
Because this will be a creative focused meeting, we will be doing LOTS of hands

on projects,
I'm limiting the attendance to 20, with preference given to my first downline
so that we are sure to have adequate table space. I will also have a waiting list if need be. If you RSVP to come and find you are unable to make it, PLEASE let me know so I can fill your space.
RSVP by Tuesday, January 12th - Watch for future updates to the "Bring List"
Once again the art swap theme will be anything NEW – Make 6.

Use any products from the Spring/Summer 2011 Idea Book marked "NEW" as well as our core product line of Inks and Cardstocks to create a card (minimum size 4x4), layout or other project. I have decided to open it up to the LIMITED use of gadgets such as the Cricut, Cuttle Bug etc. Please use them with caution. We will try it and see what everyone thinks. This swap is also open to anyone who wants to participate by mail. just send a SASE with your swap items and have them to me by Thurs. April 14th.
For the business portion, Chris Green will do a Studio J presentation in the morning
Tera Boring -Sophia mini Album with Journaling Spots
Lynn Christopher (something from Magic)
Creative Corner:
I don't usually promote products that are not CTMH, but I just have to tell you about this product that is the BOMB! While I was at Karen's for LeaderShare, I used Bren Yule's and it is so easy to use for both cardstock and B&T's. It's carried at Micheal's, Joanne's, Hobby Lobby and many online retailers. Retails for $19.99 and you can use your 40% off coupon on it! If I am teaching a box or other project that requires scoring, I'll do it for my customers ahead of time. This product really is a time saver!
Martha Stewart Scoring Board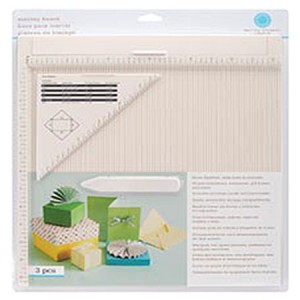 Here is a preview of a couple of the projects from the upcoming Oregon Team Meeting. I don't have the written directions for this basket finished yet, but I do plan on doing it. I am also teaching this in my workshops this month.
Tera Boring will be teaching this mini-album created from the Sophia Level 2 Journaling Spots.



T

This is an easy card featuring the April Stamp of the Month - Blessed. In my monthly workshops, I teach 5 projects. I be sure to use the SOM in at least one
1 quick and easy card and 1 masculine card.


This cupcake gift card pull-up card, I taught in my workshops last year. I re-made it using Sophia. The closure is one of our retired accent, Spiral Clips.
Quote of the Week:
Perseverance is a great element of success.
If you only knock long enough and loud enough at the gate,
you are sure to wake up somebody.
- Henry Wadsworth Longfellow